While catching up on blogs today, I started thinking about the things we do in the name of fertility that we would never have previously imagined. We give ourselves shots, we have sex (or don't have sex) on demand, we put medicine in places it should never go. But beyond the medicinal, many of us also turn to "alternative" therapies. From meditation to psychics, the pursuit of a child often pushes us beyond our normal boundaries.
So what's the craziest thing I have done for fertility? There is a Ripley's Believe It or Not about an hour from my home, and last summer, they had two fertility statues touring their locations. When the statues arrived at the location nearest us, I immediately began planning our visit. Many Ripleys put the statues in the lobby so that they can be seen and touched for free, but our Ripley's placed them behind the ticketed entrance. A and I paid $30 to pass through the turnstile and get our chance to lay hands on these allegedly mystical statues.
As you may recall from previous posts, I am a fairly devout Christian, so seeking the intervention of statues was not part of my normal routine. Sure, both A and I viewed it as a bit of a joke, but I cannot deny that a part of me truly hoped those statues would help me out.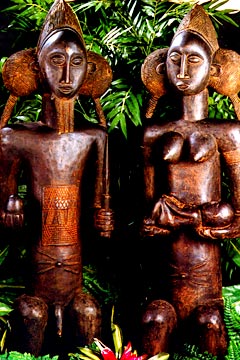 Unfortunately their assistance was lost on me, as I experienced three failed pregnancies after touching these guys. For those who want to take their own shot at statue luck, though, I believe they are still touring.